Why Volunteer at Adventure & Victory?
To Give Back * To Help Others Grow * To Better our Community
Online Volunteer Application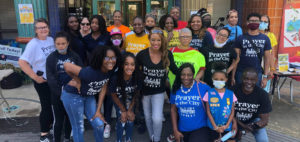 VOLUNTEER OPPORTUNITIES
We place Volunteers where they are most  gifted and passionate to support the women and families in the following areas: 
WOMEN'S PERSONAL & SPIRITUAL DEVELOPMENT PROGRAM (DC&DB)
PRAYER IN THE CITY (OUTREACH)
COMMUNITY SUPPORT LINE (OUTREACH)
BACK TO SCHOOL (OUTREACH)
BUILDING THE BRIDGE CHRISTMAS (OUTREACH) 
Volunteering builds a lasting bond with the people you help and the change you create in your community. You become an instrument  of making a place better, or brightening someone's day. Volunteering is an opportunity to change lives.