Calandra Thompson
Destiny Chasers Program
January 26, 2017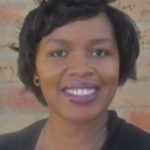 Calandra Thompson – Destiny Chasers
It was October 2016 that I received the email from Ms. Jacqueline Johnson saying that I had been selected for the Destiny Chaser Scholarship. See, the beauty of this story goes way deeper than receiving an email from this powerful woman of God. It started as a divine connection from God. It was 2015 that I met Ms. Jacqueline through my now fiancés family.
Then it was 2016 that I saw Ms. Jacqueline again at a church service. Then later in the year Ms. Jacqueline contacted me on Facebook to say how proud she was of me and my now fiancé. I requested her as a friend on Facebook. Every day she would post these Facebook live videos. They were so empowering and enlightening. I think what I loved most about them, is the fire and passion that she had for speaking about God's word and revelation.
I remember one day watching a video and God sharing with me that she would be my mentor. Of course, I doubted this word. It was a week or so later that Ms. Jacqueline was contacting me regarding her program Destiny Chasers. I went to the first meeting and guess what I had a life coach (mentor). She was more than a mentor but a spiritual mentor that was purposely placed in my life by God. She was placed in my life on purpose for a purpose.
Going through her program ignited so much within me in such a short time. Dreams that I had deep within me, came alive. I was walking in my purpose. I was learning new things and even sharing new things with those around me. My fire was burning brightly for the world to see. It wasn't for my glory but God's glory.  See as I walked into the next dimension in my life, God was doing a new thing in me.
I really started to understand the scripture Philippians 4:13 I can do all things through Christ who strengthens me. This word is so powerful and profound. Things that I never thought I could do, I'm doing them. It was through this program that I learned how to make money blogging.
I started offering a variety of services on my website from ghost writing, to web design and even marketing. I learned how to market myself and even sell my services to potential clients. I learned how to manage money which is very important as a soon to be wife, mother, and even an entrepreneur.
I met some amazing women of God. Each had a unique testimony to share with the group. They inspired me to be better and to never give up on my dreams.
I have a few testimonies I want to share as well. One day I was down to my last dime. I pressed my way to the class. I was blessed with a Walmart gift card. I could get food for the family for this seed that was sowed into my life. Later that evening, Ms. Jacqueline called me and wanted to meet me. Someone had blessed me with $200.00 cash. I praised God for hearing my silent cry and spoke blessings on the person that sowed the seed. Of course, I went straight to the grocery store.
I got engaged on Christmas Day to my best friend which just happens to be Ms. Jacqueline's God son. Now this is story all about how my life got flipped turned upside down. No be seriously this class has truly blessed me beyond words. I am grateful for the opportunity to have met such an amazing woman of God. I am glad to have been a part of the process and even the vision. I thank God for the manifestation of the things that have occurred in my life. I understand that I can't go back to my past because I'm too busy running into my future.