August 9, 2023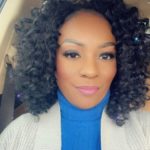 Shaletha Marshall – Destiny Chasers
When I came to Destiny Chasers & Dream builders I was lost, broken, and shameful of what I was going through. My mind was all over the place, and I could not figure out how to stop my world from spinning.
Jacqueline Johnson and her team helped me build myself up so that I could become the best version of myself for my daughter and others. The coaching helped me gain confidence in myself, while teaching me to heal and how to work on my credit.
My transformation began when I started to really let go. Let go of the pain and hurt that I was experiencing. I learned to write my thoughts out on paper and since then have published several books. Her personal development coaching has taught me how to share my story and share it well! I thank God for Adventure & Victory because I have grown tremendously and met some amazing women in the group.